Chicago's Top 10 Public Golf Course Clubhouses
With golf's surge in popularity in the late 1990's spearheaded by Tigermania, Chicago was graced with the 'building' of many new golf facilities, and in order to stand out, or, stand above the competition the new facility needed a lush, scenic piece of land for its 18-hole (or more) course routing, and, a modern, stylish clubhouse to service it. But still, just as with residential housing, older clubhouses can be expanded and / or refurbished to stay valuable and functionable.
David Letterman may have ceased to issue Top-10 lists, but Chicago Golf Report continues to produce Top-10 lists on an annual basis, and this year our list is that of Chicago's Top-10 Public Course Clubhouses. With the restrictions put into effect during 2020 due to the corona virus, a list such as this would not have been meaningful because indoor dining in golf clubhouse restaurants was forbidden and pro shops were partially or totally shuttered by governmental orders.
But recently by decree of Illinois Governor JB Pritzker and Chicago Mayor Lori Lightfoot, the restrictions on indoor dining and capacity limits were eased, thus enabling golf course restaurants the capability to once again sell food and pro shops once again to service customers in a closer to normal fashion.
Clubhouses can and do serve a dual purpose by providing the opportunity for golf facility operators to earn revenue with non-golf gatherings, such as weddings and business meetings. For the purpose of this top-10 list, receptions and corporate seminars are set aside, as Chicago Golf Report wishes to emphasize the importance and benefits of clubhouses to everyday golfers. The effect and influence by clubhouses on everyday golfers is threefold — before, during, and after the round.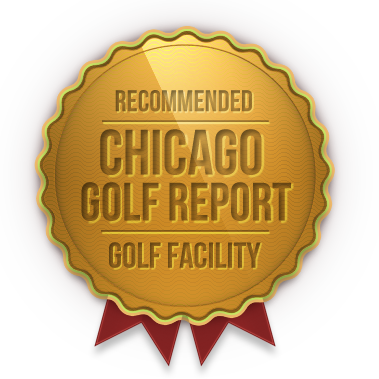 If you play enough golf, you have most likely had both good and bad experiences before your round has even begun. If you are pressed for time before tee-off, is the cashier counter positioned far from the door?
Are there enough cash registers to handle one or more foursomes at a time? Especially during shotgun start events, are there enough stalls in the restroom? Is the pro shop large enough to carry a varied selection of golf merchandise in your size, your brand so you can start your round fully armed and in style?
In the situation when there is no on-course beverage cart, is the snack counter or grill sufficiently stocked with ready-to-go beverages and munchies for a quick visit at the turn?
And when the round is finished and the 19th hole is reached, is there a good place to cool down, payoff bets, watch golf or other sporting events on TV? How many TV's? Or, is there a spot for a relaxing overall view of the property? How enticing is the menu? Does the clubhouse offer video gaming terminals, if permitted?
Be assured that the selection of this year's top-10 list was especially challenging; in addition to those facilities whose building made the list, there were at least another dozen clubhouses that were close contenders, and so we apologize if your favorite clubhouse is one of these that was omitted. Therefore by asking and answering the questions shown above, and with points added or taken away beginning with necessities and moving on to bells and whistles, here is our list of Chicago's Top-10 Public Course Clubhouses (7 county surrounding area):
The opening of Ruffled Feathers golf course in 1992 was headlined with the names of its course architects, Pete and P.B. Dye; Golf Digest and Golfweek both listed Ruffled Feathers among their "Best New Courses in America" for 1992. To compliment the quality of its course layout, Ruffled Feathers then constructed a modern premium clubhouse. The new clubhouse attracted the attention of the Illinois Section PGA which moved its office headquarters from Oak Brook to the Ruffled Feathers clubhouse on April 1, 1995.
In January 2015, Ruffled Feathers scripted a new chapter in its storied history when leading golf management firm Arcis Golf assumed operation of the club. Arcis determined that after two decades of use and twenty years of northern Illinois climate, funds needed to be spent and embarked upon a project to drastically transform the interior and exterior of the Ruffled Feathers clubhouse, and these results have earned a spot on our Top-10 clubhouse list.
The "modern Tudor" exterior of the 30,000-square-foot clubhouse at Ruffled Feathers GC exudes a warm, calm, and inviting emotion, while the interior maintains its every nook with comfort and style. The clubhouse bar has been completely changed to provide a brighter, more casual environment, highlighted by wall-size photo murals depicting Chicago's rich history and landmarks. Just outside the bar, the 1,000-square-foot wraparound deck provides multiple seating areas and vantage points for watching action on the 9th and 18th holes. New restaurant décor, furnishings and menus, has greatly enhanced the dining and event experiences.